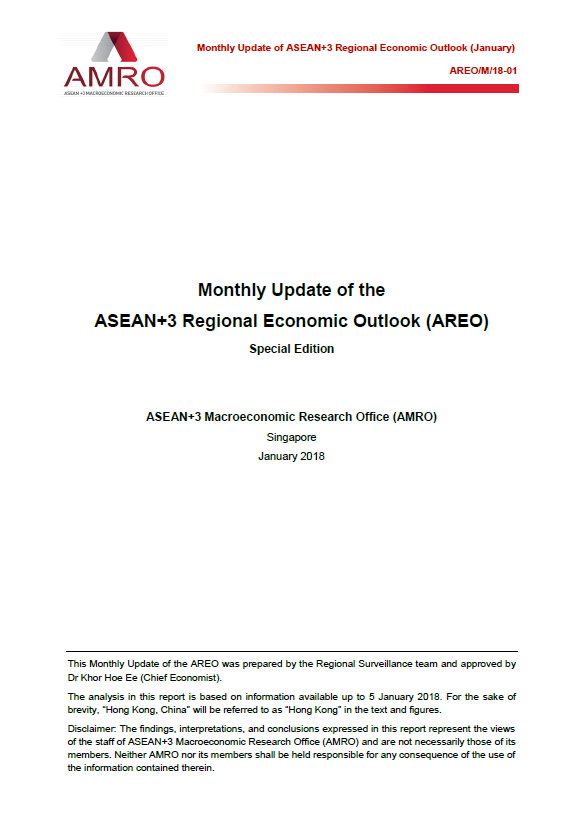 Monthly Update of the ASEAN+3 Regional Economic Outlook (AREO) – January 2018
Compared to early last year, prospects for the global economy improved, driven by an expansion in global trade, with an upcycle in sectors such as semiconductors and with capital expenditure trending up, while inflation pressures remained subdued. AMRO's baseline GDP growth forecast for the ASEAN+3 region is 5.5 percent in 2017, and 5.4 percent in 2018. The risks confronting the ASEAN+3 region are tail risks with low likelihood, but with high impact, which include tighter global financial conditions, protectionism from U.S. imposing tariffs on targeted exports from the region and a hard landing or capital flight from China. With these risks in mind, policymakers should continue to build policy space, particularly in monetary policy. However, with constraints on monetary policy due to tightening global financial conditions, fiscal policy would have to play a greater role to support growth.
The Monthly Update of the ASEAN+3 Regional Economic Outlook (AREO) provides regular, short updates on regional economic developments, to supplement the annual AREO published in May each year. The Updates are published eight times a year, with the April and May editions incorporated into the annual AREO published in May, and the November and December editions into next year's January Update (Special Edition).
Download Monthly Update of the ASEAN+3 Regional Economic Outlook (AREO) – January 2018