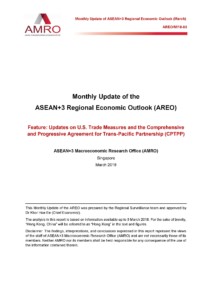 Monthly Update of the ASEAN+3 Regional Economic Outlook (AREO) – March 2018
Growth in the U.S. economy remained strong, despite the downward revision in the GDP growth of the fourth quarter of 2017 to 2.5 percent quarter-on-quarter (qoq). In the Eurozone, growth was stable in the fourth quarter at 0.6 percent qoq, while in the U.K, growth slowed down to 0.4 percent qoq. Global financial conditions have remained accommodative but are expected to tighten, with the U.S. Fed Chair Powell signaled a more hawkish monetary policy. There has been some moderation in growth in the ASEAN+3 economies, including China, Japan, Thailand, Malaysia and Singapore, although exports are still a large contributor to growth. For the most part, monetary conditions remain accommodative in the region. However, with the risk of faster-than-expected tightening of global financial conditions, some central banks in the region are on a tightening bias.
This month's edition also includes a special feature on "Updates on U.S. Trade Measures and the Comprehensive and Progressive Agreement for Trans-Pacific Partnership (CPTPP)."
The Monthly Update of the ASEAN+3 Regional Economic Outlook (AREO) provides regular, short updates on regional economic developments, to supplement the annual AREO published in May each year. The Updates are published eight times a year, with the April and May editions incorporated into the annual AREO published in May, and the November and December editions into next year's January Update (Special Edition).
Download Monthly Update of the ASEAN+3 Regional Economic Outlook (AREO) – March 2018