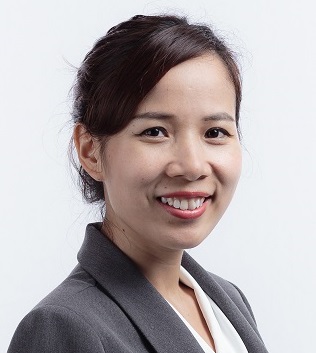 Huong Lan Vu
Communications Strategy and Planning
Media Engagement
Digital Communications
Event Management
Crisis Communications
Ms. Vu is responsible for public relations and communications function at the ASEAN+3 Macroeconomic Research Office (AMRO). Since joining AMRO as its first Public Relations Officer in late 2016, she has helped the organization lay foundation for public communications and transform the way it communicate with the target audience. Her responsibilities include developing the communications strategy, setting up guidelines and procedures, managing media engagement, managing AMRO's online channels, and organizing outreach events.
Prior to joining AMRO, Ms. Vu worked for the World Bank Office in Hanoi, Vietnam as a Communications Officer/Associate from 2011 to 2016. At the Bank, Ms. Vu was in charge of strategizing and carrying out communications strategies for more than 10 multi-million-dollar projects. As a member of the East Asia Pacific Online Communications team, she was also responsible digital communications engagement for Vietnam. During the course of five years, she led the production of 100 content product packages. In 2015, she received the East Asia Pacific Vice Presidency Unit Award for her contribution to a major infrastructure project in Ho Chi Minh City.
Before moving into public relations, Ms. Vu worked as a journalist in Hanoi, Vietnam and Chicago, USA for almost four years. She was the Managing Editor of the Vietnam Economic Forum of VietNamNet Newspaper, where she led a team of seasoned journalists and contributing writers to win the Best Team of the Year award in 2011.
Ms. Vu holds a Master's Degree in Journalism from Northwestern University in the U.S under a Fulbright scholarship. She was the founding member and core instructor in the project "Empowering Young Vietnamese Journalists" from 2010 to 2012. In 2012, she contributed to a book titled "News Gathering and Writing: A Practical Guide to Journalism."