JUNE 12, 2018 | PRESS RELEASES
AMRO Lead Economist Discusses Regional Financial Arrangement with Professors and Students in Thailand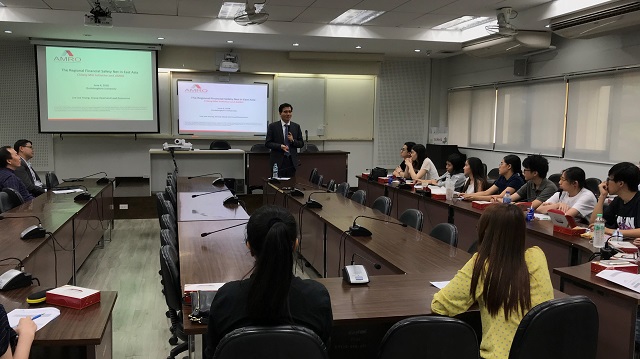 AMRO Lead Economist Dr. Lee Jae Young gives a lecture at Chulalongkorn University in Bangkok, Thailand on June 4, 2018
BANGKOK, THAILAND, June 12, 2018 – A stronger regional financial safety net would enhance resilience of regional economies against external shocks, said Dr Jae Young Lee, Lead Economist of the ASEAN+3 Macroeconomic Research Office (AMRO) during his lecture at Chulalongkorn University in Bangkok, Thailand on June 4, 2018.
Attended by almost 30 professors and graduate students, the lecture was opened by Associate Dean of the Faculty of Economics Dr. Panutat Satchachai, followed by a short introduction to AMRO by Dr Tanyasorn Ekapirak, and was moderated by Assistant Professor Dr. San Sampattavanija.
Since the Asian Financial Crisis swept the regional economies, including Thailand, in late 1990s, governments in the region have worked together to strengthen Regional Financial Safety Net in a bid to prevent a crisis and get better prepared for future crises. A multilateral currency swap arrangement between ASEAN+3 members called the Chiang Mai Initiative Multilateralisation (CMIM) and its surveillance arm, AMRO, were established in 2010 and 2011, respectively, to safeguard the regional macroeconomic and financial stability.
In his presentation, Dr Lee emphasized the relevance of CMIM and AMRO to Thailand's experience in 1997 'Tom Yum Kung' crisis. He also made a strong case for further strengthening the CMIM and AMRO with possible options for consideration. The lecture discussed issues related to AMRO's unique roles and responsibilities in the regional and global financial systems, the potential of future crises, of AMRO, as well as emerging topics such as financial technology and digital currency.
Participated students showed strong interest in learning more about the roles of the CMIM and AMRO as well as the importance of enhancing regional macroeconomic and financial stability.
AMRO would like to express its appreciation to the Faculty of Economics of Chulalongkorn University and students and for their  warm hospitality and active participation during the lecture.
—
About AMRO:
The ASEAN+3 Macroeconomic Research Office (AMRO) is an international organization, established to contribute to securing the economic and financial stability of the ASEAN+3 region, which includes 10 members of the Association of Southeast Asian Nations (ASEAN) and China; Hong Kong, China; Japan; and Korea. AMRO fulfills its mandate by conducting regional macroeconomic surveillance, supporting the implementation of the Chiang Mai Initiative Multilateralisation (CMIM), and providing technical assistance to its members.
Media Contact
Pinky Vu Lan Huong 
Public Relations Officer
Tel: +65 6323 9885
Email: vu.lanhuong@amro