Watch the video to learn about AMRO's history, mission, and vision.
Since the beginning of our journey as an international organization three years ago, we at the ASEAN+3 Macroeconomic Research Office (AMRO) have always asked ourselves: What kind of organization do we want to become? With the mission of contributing to the region's macroeconomic and financial stability, AMRO envisions itself as an independent, credible and professional regional organization that is capable of acting as a trusted policy advisor to ASEAN+3 members. In the past few years, we have worked tirelessly toward this vision.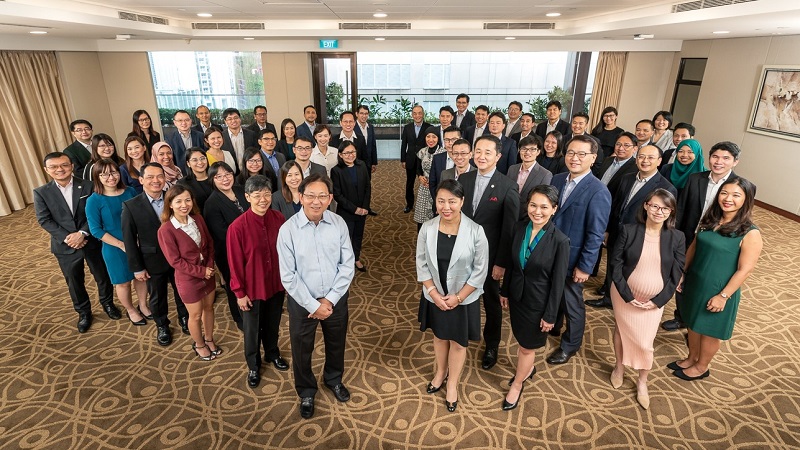 We have been aware since our early days that by publicly sharing our views and insights, we can proactively contribute to discussions on current and emerging issues pertinent to the region. At the same time, being subject to outside scrutiny put pressure on us to constantly improve the quality of our work. In view of this, since the amended Publication Policy came into effect in late 2016, we have published 23 surveillance reports, 11 thematic studies, and two Annual Reports.
We have also developed analytical toolkits and frameworks, and further enhanced our forward-looking analysis, risk assessment and policy recommendations in our surveillance reports. One good example is of AMRO being one of the first international organizations to develop a simulation of a limited trade war between the U.S. and China in our flagship report, the ASEAN+3 Regional Economic Outlook 2018, published in May 2018. The results showed that the impact of such a trade war would shave off between 0.2 and 0.3 percentage point of growth in both economies over a three-year horizon. Moreover, the knock-on effects on the rest of the region can be significant, reflecting the regional supply chains in centered in China.
As the trade war escalated in the following months, AMRO released an updated analysis in October for a worst-case scenario, and found that the impact could be up to three times higher on the U.S. and China and the region. Furthermore, the spillover effects could potentially interact with the risk of tightening global financial conditions to weaken business confidence and amplify the adverse effects on the regional outlook. Through analysis of this nature, we have endeavored to help market participants and policymakers make informed decisions with respect to investment and policies.
During the market turbulence and volatility episodes in 2018, AMRO actively provided independent assessments of the global and regional situation. For instance, right before the 2018 International Monetary Fund/ World Bank Group Annual Meeting in Bali in October, we issued a Monthly Update on the ASEAN+3 Regional Economic Outlook, in which we shaved the growth forecast for 2018 and 2019 by 0.1 percentage point to 5.3 percent and 5.1 percent respectively, reflecting growing uncertainties in the global economy. We also published  an Op-Ed piece in the Jakarta Post assessing the country's outlook, risks, vulnerabilities, and emphasizing the country's strong macroeconomic fundamentals and the proactive response of the authorities to mitigate the risks to stability.
AMRO has also focused on identifying and analyzing structural issues to strengthen fundamentals in the region. Both our regional and country reports now include more policy-oriented background studies on selected issues. The 2017 inaugural edition of the ASEAN+3 Regional Economic Outlook (AREO) series looked at lessons learned from the 1997 Asian Financial Crisis and suggested policies to help weather external shocks and sustain growth momentum. In the AREO 2018, we reviewed the continuing effectiveness and relevance of the "manufacturing-for-exports" strategy which had helped the region to generate growth and employment in the past few decades, and recommended that the strategy be augmented by inclusion of services as another driver of growth in view of the rapid automation in manufacturing and the dramatic improvement in digital and telecommunication technology. Building upon these two themes, we will focus on the theme of building capacity and connectivity to promote regional integration and enhance resilience and growth in the upcoming AREO 2019. We believe that these thematic studies can provide  policymakers with a deeper understanding of the fundamental forces driving economic changes so that they are in a better position to address pressing structural issues and challenges facing their economies.
As we aspire to become a 'regional anchor' that can inspire regional financial cooperation and facilitate the sharing of knowledge and best practices among members, we have initiated and jointly organized numerous high-level events internationally. From only four events held in 2016, we (co-)organized 25 events in 2018. These include our annual flagship event, the ASEAN+3 Financial Forum, launched in 2016, the annual High-level RFA Dialogues and Joint RFA Research Seminars with our strategic partners, the European Stability Mechanism and the Fondo Latino Americano de Reservas.
We have continued to provide timely policy updates on global and regional economic developments to support ASEAN+3 cooperation. We were heartened to know that AMRO's policy note titled "ASEAN Plus Three and External Risks: Sustaining Growth Through Cooperation", that was submitted to ASEAN+3 leaders at their 21st summit in Singapore in November 2018 was recognized as "a helpful overview of recent macroeconomic trends and possible policy responses" in the Chairman's statement.
In its support of the Chiang Mai Initiative Multilateralization (CMIM), AMRO has assisted ASEAN+3 members in conducting the first CMIM periodic review, and supported several CMIM test runs. AMRO has also developed a CMIM conditionality framework to define the conditions for the use of CMIM facilities, and further enhanced the Economic Review and Policy Dialogue (ERPD) Matrix as a tool to support the activation of the CMIM facilities. Recently, AMRO has conducted a collaborative research study on local currency contribution to the CMIM and explored issues related to the future direction of the CMIM.
As an international organization, we are accountable to taxpayers in the region. We do this by publishing our reports so that the public can access and evaluate our work and by sharing our knowledge through public talks and university lectures. In countries where English is not widely used, we also provide our knowledge products in the local languages to make them more accessible to the broader public.
Professionalism, independence, and credibility need to be the bedrock guiding our operations. On the occasion of our third anniversary as an international organization, we are committed to step up our efforts across all functions to ensure that we have the knowledge and expertise to support our members more effectively in the years to come.