ASEAN+3 Regional Economic Outlook 2023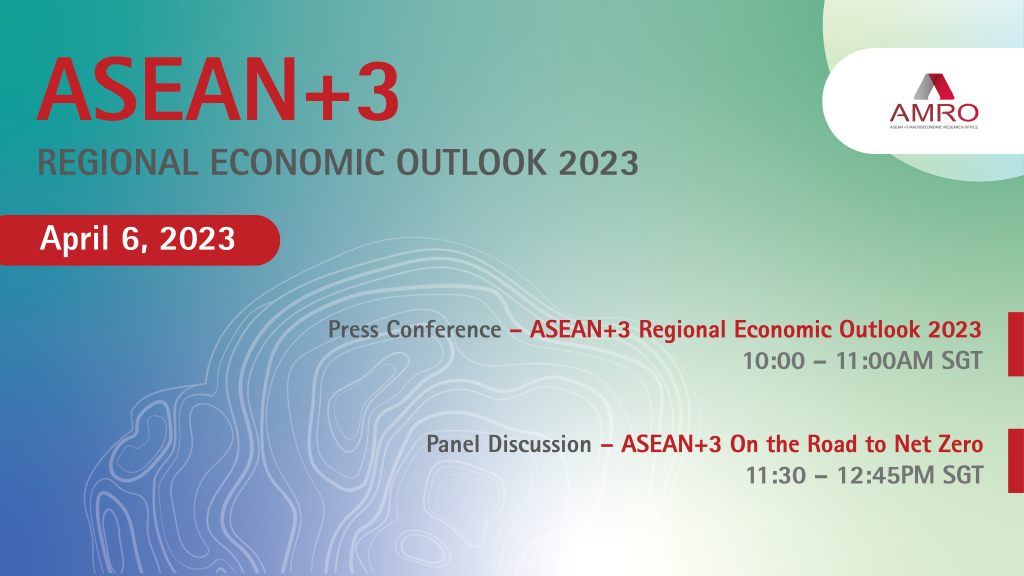 The ASEAN+3 Regional Economic Outlook (AREO) is an annual flagship report published by the ASEAN+3 Macroeconomic Research Office (AMRO).
Launched in 2017, the AREO provides a comprehensive assessment of the conjunctural and structural issues facing the ASEAN+3 region, which includes 10 members of the Association of Southeast Asian Nations (ASEAN) and China; Hong Kong, China; Japan; and Korea.
In 2022, the ASEAN+3 region performed well despite being confronted with an onslaught of challenges. Looking ahead, growth in ASEAN+3 is fraught with uncertainties and a calibrated policy mix is essential to navigate the challenges that 2023 will bring.
One of the challenges is climate change – an existential issue for the region and the world. In light of this, the second chapter of the report focuses on climate change mitigation and transitioning to net zero.
In conjunction with the release of the AREO 2023, AMRO will hold a hybrid press conference and panel discussion on April 6, 2023.
Join us live and hear from experts on ASEAN+3's most pressing issues on growth outlook, and the opportunities, challenges, and policy priorities.
REGISTER HERE FOR VIRTUAL EVENT: web.micepad.co/areo2023
AGENDA FOR PRESS CONFERENCE and PANEL DISCUSSION
The ASEAN+3 Regional Economic Outlook 2023 covers key macroeconomic developments in the ASEAN+3 region and assesses the risks to the outlook. These issues will be tackled in our press conference, where Chief Economist Hoe Ee Khor will take us through the report's main findings and answer questions from the media.
Our panel discussion focuses on climate change – one of the foremost macro-critical issues confronting policymakers around the world. Transitioning to net zero would significantly impact production and consumption in the ASEAN+3 region, among other things. While the transmission mechanisms and expected impacts will differ across individual economies, there will be implications for the long-term macroeconomic and financial development of the ASEAN+3 region as a whole.
This panel discussion will focus on the transition to net zero in the context of structural transformation and growth in ASEAN+3 economies. It will tackle questions such as the macro-financial implications of transitioning out of a high-carbon economy and opportunities for transitioning into a carbon neutral economy.
Time (SGT)
Program
10:00 am – 10:05 am
Welcome by moderator, John Cramer, Senior Communications Officer, AMRO
10:05 am – 10:25 am
Presentation: ASEAN+3 Regional Economic Outlook 2023 by Hoe Ee Khor, Chief Economist, AMRO
10:25 am – 11:00 am
Q&As with the media

Hoe Ee Khor, Chief Economist, AMRO
Anthony Tan, Deputy Group Head and Senior Economist, AMRO

11: 00 am – 11:30 am
Break
11: 30 am – 11:35 am
Welcome by Moderator, Ling Hui Tan, Group Head and Lead Economist
11: 35 am – 11:55 am
Presentation: ASEAN+3 On the Road to Net Zero, by Marthe Hinojales, Economist, AMRO
11:55 am – 12:20 pm
Panel Discussion

Marthe Hinojales, Economist, AMRO
Masyita Crystallin, Special Advisor to the Minister of Finance, Indonesia
Eugene Wong, Chief Executive Office, Sustainable Finance Institute Asia (Virtual)
Srinivasan Ancha, Principal Climate Change Specialist and Climate Change Focal for Southeast Asia, Asian Development Bank (Virtual)

12: 20 pm – 12:45 pm
Q&A Session