Improvements to both soft and hard infrastructure, with a focus on environmental, social, and governance, will be key for East Asia to keep up its growth momentum and reap the benefits of the new economy. This was highlighted at a series of outreach events in Europe organized by the ASEAN+3 Macroeconomic Research Office (AMRO) in mid-May 2019.
Following the launch of the ASEAN+3 Regional Economic Outlook (AREO) 2019, AMRO staff visited several institutions in Europe to exchange views with policymakers, researchers, and market participants, on pertinent issues examined in the report. The outreach discussions covered both conjunctural and structural issues at the Official Monetary and Financial Institutions Forum (London) and the European Central Bank (Frankfurt) presentations and focused largely on the latter at the Organisation for Economic Co-operation and Development (Paris).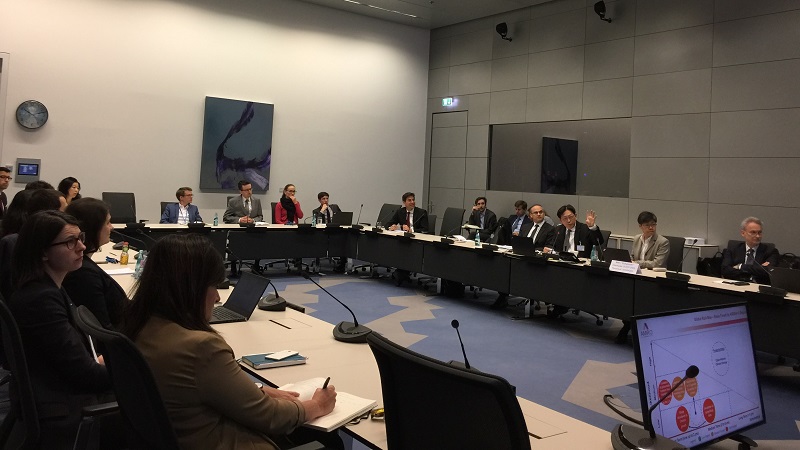 AMRO Chief Economist Dr. Hoe Eee Khor presented on conjunctural and structural issues at a seminar hosted in the European Central Bank (ECB).
In his presentations, AMRO Chief Economist Dr. Hoe Ee Khor highlighted that despite rising global uncertainties, the ASEAN+3 region remains resilient backed by strong fundamentals. However, there has been underinvestment in some countries, which, if addressed, could help the region grow even faster.
On the impact of the escalating US-China trade tensions, participants asked if Asian countries would be able to absorb the impact from the tariff increases in the short-term, and what measures China may take in retaliation against the United States. Dr. Khor replied that while the short term impact is likely to be adverse, the supply chain would likely adjust in the medium- to longer-term, and some economies like Vietnam, Malaysia, and Thailand, could benefit. He also added that China's economy has shifted in recent years to the production of high tech products, and the country is placing more emphasis on the need for stronger intellectual property rights protection.
Regarding the implications of Brexit on Asia, Dr. Khor opined that any impact would likely be through the financial sector, rather than the real economy, and spillovers will likely be small if there is no disruption to financial stability in the United Kingdom.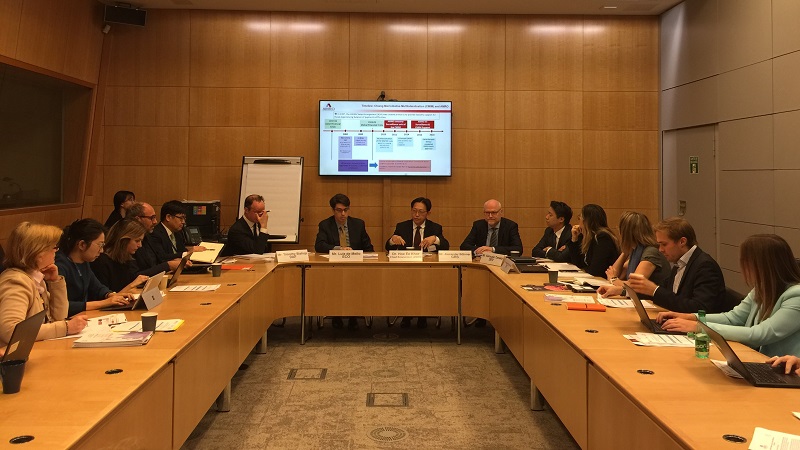 Dr. Hoe Ee Khor focused on structural issues in the ASEAN+3 region during his presentation in the Organisation for Economic Co-operation and Development (OCED).
On long-term structural issues, discussants noted that the development of deeper financial markets in the region is key for infrastructure financing. Moreover, local currency financing is important to mitigate exchange rate risks. Separately, environmental, social, and governance considerations are becoming increasingly important for investors when determining viability, and infrastructure projects that meet these standards could be attractive. Hence, it is important to ensure that climate considerations are taken into account in developing infrastructure, given that an estimated 60 percent of CO2 emissions could be linked to infrastructure-related activities.
Participants also highlighted the role of technology in the financing and development of new business models. A cross-sectoral governmental approach is needed to address opportunities and challenges in the transformation from the internet economy to the new digital economy, including enhancing access to broadband and data; increasing its effective use; enhancing privacy policy; and strengthening market openness.