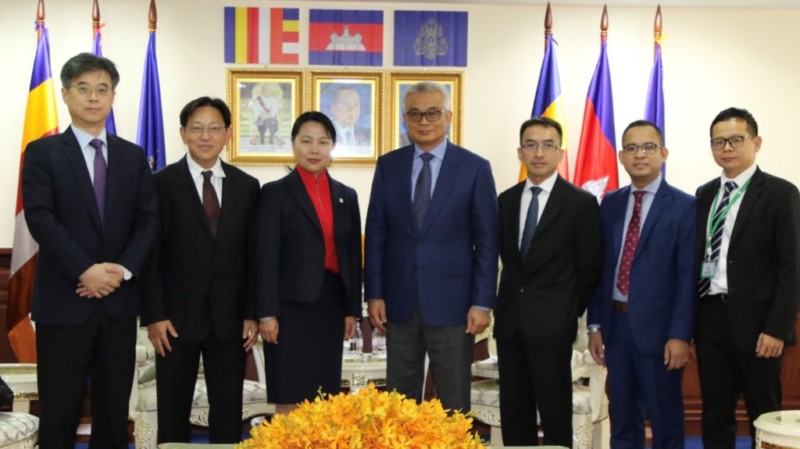 From left to right: AMRO Lead Specialist Dr. Seung Hyun Hong, AMRO Chief Economist Dr Hoe Ee Khor, AMRO Director Dr Junhong Chang, Deputy Prime Minister and Minister of Economy and Finance Dr. Aun Pornmoniroth, Director General Mr. Tep Phiyorin, Deputy Director General Mr. Chan Sopheap, and Director Chheang Vanarith.
PHNOM PENH, September 12, 2018 – Cambodia's economy is expected to continue its strong growth momentum in 2018, supported by robust construction activities, strong rebound in garment manufacturing, and solid growth in tourism-related services. This is according to the preliminary assessment by the ASEAN+3 Macroeconomic Research Office (AMRO) after its Annual Consultation Visit to the country from September 4 to 12, 2018.
The mission was led by AMRO Lead Specialist Dr. Seung Hyun Hong, and Director Dr. Junhong Chang and Chief Economist Dr Hoe Ee Khor participated in several policy discussions. The discussions focused on Cambodia's recent macroeconomic developments and outlook, risks and vulnerabilities, as well as structural reforms in the economy.
"Cambodia's economy is expected to grow at 7.2 percent in 2018, slightly higher than 7.0 percent in 2017, while inflation remains relatively low and stable," said Dr. Hong. "To maintain this strong growth momentum, the authorities need to strengthen their policy efforts to accelerate structural reforms, safeguard financial stability, and reprioritize fiscal resources towards growth-enhancing spending."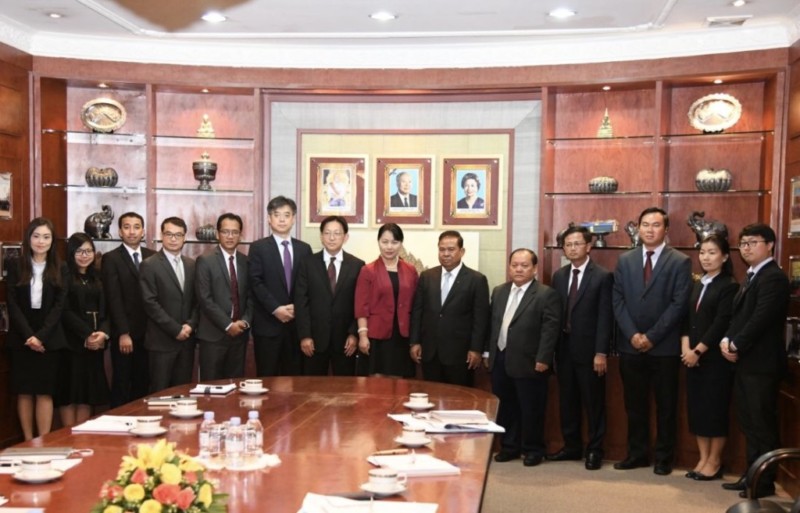 AMRO Director Dr Junhong Chang, Chief Economist Dr Hoe Ee Khor and the Cambodia mission team hold a courtesy call with the National Bank of Cambodia Governor Dr. Chea Chanto (middle)
Higher government spending because of rising public investment and public sector wages will provide additional support to growth in 2018. Inflation remained relatively stable at 2.9 percent in 2017 but is projected to increase slightly to 3.1 percent in 2018 amid recent rising energy prices.
Cambodia's external position continues to strengthen reflecting robust foreign direct investment (FDI) inflows which more than cover the current account deficit. As a result, the overall balance remains in surplus leading to a build-up in foreign reserves from USD6.7 billion in 2016 to USD8.8 billion in 2017. The gross international reserve is projected to reach USD10 billion by end-2018, covering around six months of goods and services imports.
Financial sector indicators remain broadly sound while credit growth to the private sector has moderated. The implementation of prudential regulations, including new minimum capital requirement and liquidity coverage ratio, has helped improve the soundness and resilience of the financial sector. The adoption of the International Financial Reporting Standard (IFRS) 9 is a welcome progress and the authorities need to continue their efforts to upgrade the regulatory framework to the international standard.
Despite strong revenue growth, the budget deficit is expected to widen further in 2018. Given a rapid increase in public sector wage bills in recent years, pressure on rebalancing government expenditure will continue as infrastructure gap remains large and spending on health and education is still relatively low. Current spending growth should be moderated by keeping the total public wage bill increase on a sustainable path, which can be facilitated by strengthening the implementation of the Public Finance Management Reform Programs (PFMRP).
Enhancing competitiveness is crucial to maintaining high growth potential. In this regard, the government's policy measures to address the infrastructure gap and the skill gap are commendable. In addition to a substantial increase in the public investment budget, the National Logistic Council was established in 2017 to facilitate infrastructure developments. Continued support to enhance the output and quality of the education system is also essential to address the skill gap and ensure a sufficient labor supply with appropriate skills.
The mission team would like to thank the Cambodian authorities and other counterparts for their warm hospitality and support. The consultation visit has provided AMRO with valuable insights and deeper understanding of the Cambodian macroeconomic and financial conditions and policies as well as ongoing structural reforms.
—
 About AMRO:
The ASEAN+3 Macroeconomic Research Office (AMRO) is an international organization established to contribute to securing the economic and financial stability of the ASEAN+3 region, which includes 10 members of the Association of Southeast Asian Nations (ASEAN) and China; Hong Kong China; Japan; and Korea. AMRO fulfils its mandate by conducting macroeconomic surveillance, supporting the implementation of the regional financial arrangements, the Chiang Mai Initiative Multilateralisation (CMIM), and providing technical assistance to the members.