As the COVID-19 pandemic is identified as one of the biggest risks facing the region, AMRO is monitoring the situation closely and ascertaining its impact on regional economies every step of the way. This page consolidates our economists' analyses on how this health crisis affects macroeconomic and financial stability in the region and provides policy advice to our member economies.
Table 1. ASEAN+3: AMRO Growth and Inflation Projections, 2022–23
(Percent)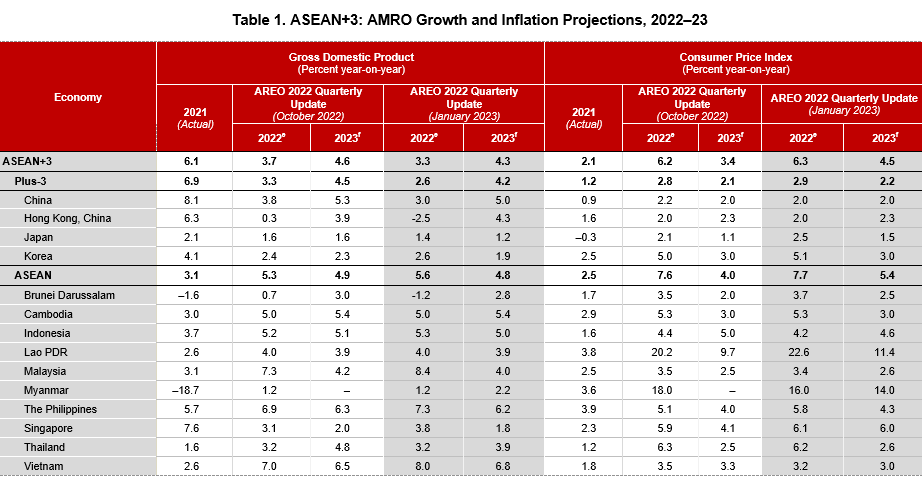 Source: AMRO staff estimates.
Note: AREO = ASEAN+3 Regional Economic Outlook report. e = estimate, f = forecast. Regional aggregates for growth are estimated using the weighted average of 2021 GDP on purchasing power parity basis; regional aggregates for inflation are computed using simple averaging. Myanmar's numbers are based on its fiscal year which runs from October 1 of the previous year to September 30 of the current year. Excluding Myanmar, inflation in ASEAN+3 for 2023 is 3.8 percent.
(Updated as of January 17, 2023)
For earlier updates, please click here.
ASEAN+3 and COVID-19: Panoply of Pandemic Policies
The COVID-19 pandemic has seen ASEAN+3 members introduce and implement a wide array of policies.  They range from monetary to fiscal to financial to physical containment measures, to support the economy and protect the health and safety of the population. AMRO staff has compiled these policy announcements and actions into a comprehensive (daily) cross-country database.  The key Euro area, UK, and US policy responses are also included for completeness.  This database will be updated on a monthly basis.
Access the database (Last updated: Jun 7, 2022)