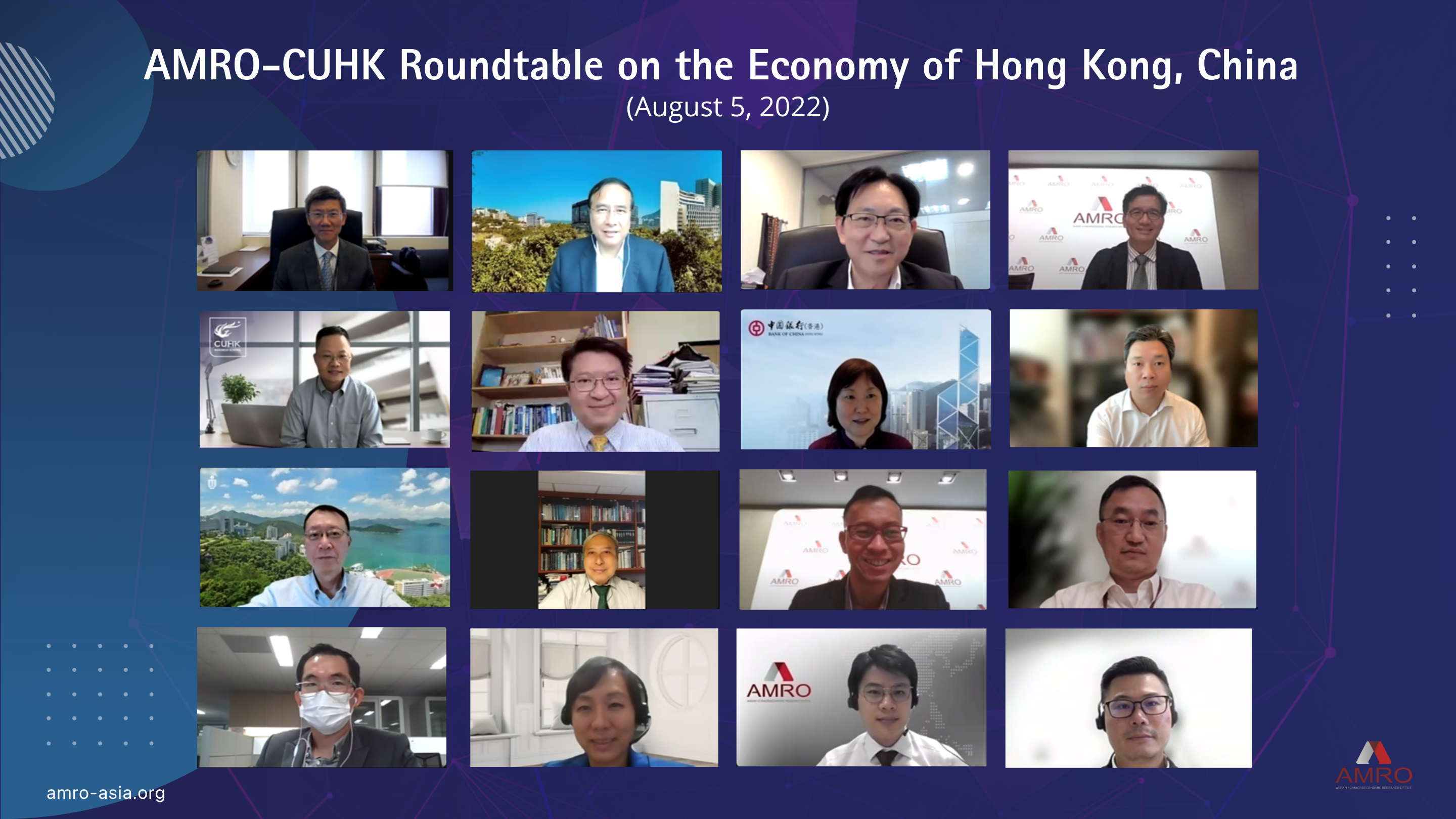 Top row (L-R): Dr. Kouqing Li, Prof. Lin Zhou, Dr. Hoe Ee Khor, Dr. Jae Young Lee
Second row (L-R): Dr. George Yang, Dr. Terence Chong, Dr. Zhihuan E, Dr. Haibin Zhu
Third row (L-R): Dr. Francis Lui, Dr. Pak Wai Liu, Mr. Suan Yong Foo, Dr. Fan Zhai. With participation from the AMRO Hong Kong team
The Chinese University of Hong Kong (CUHK) and the ASEAN+3 Macroeconomic Research Office (AMRO) will hold a virtual roundtable on the economy of Hong Kong, China on Friday, August 5, 2022, 9:30 AM – 12:00 PM (Singapore time).
Participants from AMRO, CUHK, the Hong Kong University of Science and Technology (HKUST), Bank of China (Hong Kong) and JP Morgan will discuss Hong Kong's near-term macroeconomic outlook, long-term development challenges, and policy priorities.
The roundtable is part of AMRO's 2022 Annual Consultation Visit program to Hong Kong, China.
AGENDA
Time (SGT)
Program
9:30 AM – 9:40 AM
Opening Remarks by:

Dr. LI Kouqing, Director, AMRO
Professor ZHOU Lin, Dean, CUHK Business School

9:40 AM – 10:40 AM
Session 1: Macroeconomic Outlook, Challenges and Policies for 2022 and 2023

Against the backdrop of a subsiding fifth wave of Covid-19 outbreak, Hong Kong's economy recovered in the second quarter of 2022.

What's the growth prospects for the rest of 2022 and 2023? Will the recent benign inflationary environment continue?
What will be the key downside and upside risks to Hong Kong's short-term economic outlook? In particular, how will the prospects on reopening border with mainland China and the rest of the world as well as the US monetary tightening affect the economic recovery?
How do we assess the current fiscal policy stance and the effectiveness of the government's fiscal relief packages in the past two years?
Will there be any long-lasting scarring effects on productivity, labor market, corporate balance sheets and investor confidence from the recent wave of Covid-19 and its subsequent mitigation policies?

Moderator: Dr. LEE Jae Young, Group Head and Lead Economist, Mission Chief for Hong Kong, AMRO

Presenters:

Dr. ZHU Haibin, Chief China Economist, JP Morgan
Dr. CHONG Terence, Associate Professor, Economics Department, CUHK

10:40 AM – 10:45 AM
Coffee break
10:45 AM – 11:55 AM
Session 2: Medium- and Long-term Challenges and Policy Priorities

Hong Kong faces a number of medium- and long-term challenges, such as population aging and labor force shrinkage, worsening income distribution, low housing affordability, over-reliance on certain industries and trading partners, and the possible escalation of US-China tension.

Which might be the most pressing challenges for Hong Kong economy in the medium term, and why?
How may the government tackle them?
What roles can some government's policy initiatives, such as Great Bay Area (GBA) cooperation, different financial connection schemes, re-industrialization, etc. play in addressing these challenges?
What are the policies that can strengthen long-term potential growth of Hong Kong economy?

Moderator: Professor YANG George Yong, Director, School of Accountancy, CUHK

Presenters:

Dr. E Zhihuan, Chief Economist, Bank of China (Hong Kong)
Dr. LIU Pak Wai, Professor Emeritus, Economics Department, CUHK
Dr. LUI Francis T, Professor Emeritus, Economics Department, HKUST

11:55 AM – 12:00 PM
Summary and Closing Remarks

Dr. KHOR Hoe Ee, Chief Economist, AMRO
Dr. LI Kouqing, Director, AMRO
Dr. KHOR Hoe Ee, Chief Economist, AMRO
Dr. LEE Jae Young, Group Head and Lead Economist, Mission Chief for Hong Kong, China, AMRO
Dr. ZHOU Lin, Dean, CUHK Business School
Chol-Ming Li Professor of Economics
Dr. CHONG Terence, Associate Professor, Economics Department, CUHK
Dr. E Zhihuan, Chief Economist, Bank of China (Hong Kong)
Dr. LIU Pak Wai, Professor Emeritus, Economics Department, CUHK
Dr. LUI Francis T, Professor Emeritus, Economics Department, HKUST
Dr. YANG George Yong, Professor and Director, School of Accountancy, CUHK
Dr. ZHU Haibin, Chief China Economist, JP Morgan