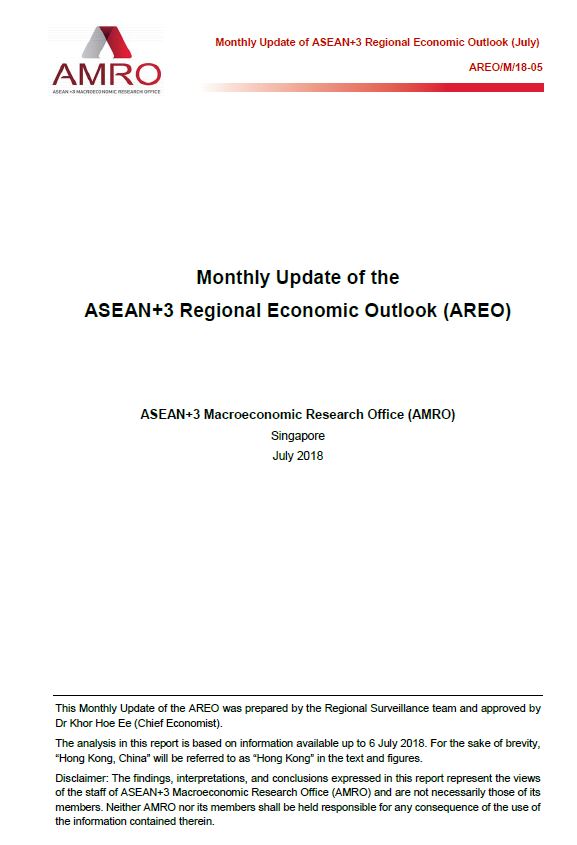 Monthly Update of the ASEAN+3 Regional Economic Outlook (AREO) – July 2018
Global financial conditions continue to tighten as the U.S. Federal Reserve remains on its interest rate hike path as the economy is expected to show stronger growth in the second quarter of 2018. The U.K. and Eurozone economies have seen some slowdown in the first quarter of 2018 as business activity slowed over concerns about the impact of trade tensions as well as uncertainty over the negotiations of Brexit. In China, economic activity continues to pick up while the latest Tankan survey in Japan shows that business confidence declined slightly. Several economic indicators suggest that economic activity in the ASEAN+3 region generally remains robust. However, with tightening global financial conditions, coupled with other risks such as trade protectionism, financial markets within the regional are under increasing pressure of capital outflows and currency depreciation.
The Monthly Update of the ASEAN+3 Regional Economic Outlook (AREO) provides regular, short updates on regional economic developments, to supplement the annual AREO published in May each year. The Updates are published eight times a year, with the April and May editions incorporated into the annual AREO published in May, and the November and December editions into next year's January Update (Special Edition).